To answer the wide range of the required skills of tapestry making, the craftsman will alternately be a cartoon maker, a colourist, a 'basse-lisse' weaver and a seamstress.
Bernet Workshop pays particular attention to the preparatory work beforehand, which guarantees a remarkable achievement. After having identified the purpose of weaving thanks to a discussion with the artist or the prescriber, the weaver will, at first, transpose the model into full-sized weaving cartoon. At this stage, all the weaving techniques are already devised and determined so as to be relevant and to convey the artistic meaning into textile language. The accuracy of the woven interpretation of a work is at stake.
Next, the colour sampling appeals to the experience and sensitivity of the colourist who has to imagine the colour rendering once the word is over. He makes up a range of colours which will be a reference tool for the weaver.
The choice is often made with the artist to select the final palette of colours.
Regarding the choice of materials, the Workshop prefers simple, noble and natural fibres (wool, silk, cotton, linen). They are particularly suited to weaving, stand the test of time and contribute to the timeless aspect of the tapestry. However other materials such as bamboo, rayon gold or silver threads can also be used to produce particular effects.
The samples of colours are entrusted to the expert hands of the local dyers.
Then the actual making phase can begin with the warping board, the fastening of the warp of cotton, the winding of the bobbins and the colour  'flûtage' – when the material is manually transferred from the bobbins onto the flutes with a spinning wheel.
All along these steps, the entirely manual means of production, the weaver's tools and the gestures have remained the same since the origin.
Afterwards, proper weaving begins in the tradition of low-warp weaving, specific to Aubusson-Felletin. The weaver works on a low-warp loom, most often facing the wrong side of the work.
With precision in every move, the flute is alternately placed between two layers of warp in order to lay down the weft.
Once the weaving over, the tapestry is taken off from the loom and the right side of the tapestry can be entirely discovered.
The disclosed tapestry reveals all its beauty and the ultimate result can be contemplated.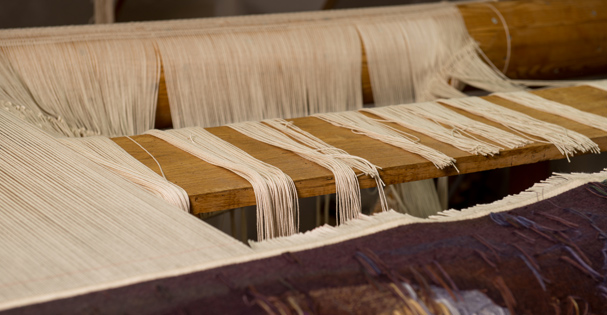 Finally, the work is sewn and finished off.
Each tapestry is authenticated with the edition number and the trademark of the Workshop which have been equally woven. What is called a 'bolduc' is sewn on the wrong side of the tapestry with all the required indications enabling its identification.